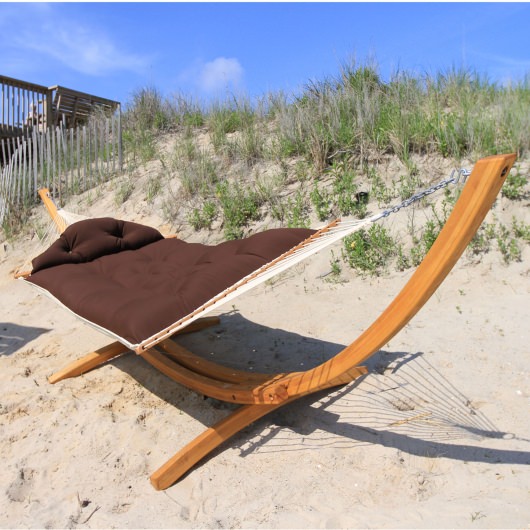 Features
Bed size 55 inches wide by 78 inches long
Varnished white-oak spreader bars
Overall length 13 feet
Weight capacity 450 pounds
Stand not included.
Requires 13-15 feet of space for hanging
Available Colors: Mocha, Luxe Indigo, Royal Blue
Product IDs:
NHTMOC in Mocha
NHTMN4 in Luxe Indigo
NHTTRB in Royal Blue
Additional Specifications
| | |
| --- | --- |
| Brand | Nags Head Hammocks |
| Hanging Distance | 13-15 feet |
| Quick Ship | Yes |
| Bed Length | 78 inches |
| Shipping | FOB Greenville, NC |
| Overall Length | 13 feet |
| Available Colors | Mocha, Luxe Indigo, Royal Blue |
| Material | Sunbrella |
| Width | 55 inches |
| Weight Capacity | 450 pounds |
[gdgallery_gallery id_gallery="55″]
Description
A recipe for the start of a perfect day: A cup of good java, and you perched at sunrise in our Tufted Hammock, with this seriously satisfying leisure construction cradling you, and teasing any tension right out of you, as you happily greet the unfolding dawn.
Kind of a bliss moment, y'know?
We can't, of course, give you the OBX sunrise (though you will routinely find some nice shots of our incomparable mornings on the Nags Head Hammocks Facebook page!). However, we can get you into one of these perfect perches of your own, for greeting any time of day when you need some quality downtime. And if you spill a little coffee, hey, the fabric's Mocha/Luxe Indigo/Royal Blue colored, right? You'll never even notice!
In truth, you don't really have to worry about stains regardless. Among the many quality features of our splendid Tufted Hammocks: They're terrifically stain-resistant.
The top and bottom fabric layer of each is the solution-dyed synthetic Sunbrella®. These two lockstitched synthetics sandwich a thick center of plush, resilient polyester hollowfill fiber manufactured from recycled plastic drink bottles.
The best known, most established outdoor fabric available, Sunbrella® is not only resistant to staining, but also to rot, mold and mildew, in addition to being amazingly colorfast. Not to mention that it's also soft as cotton to the touch.
Our Tufted Hammocks' pillowy contours are courtesy of eight well-positioned brass-plated rolled-rim steel grommets, which likewise help prevent rainwater from pooling in the hammock bed.
The hammock bed itself is offset on either end by thick spreader bars of honey-gold Southern white oak that's been repeatedly hand-dipped in marine-grade spar varnish, for both heightened looks, and heightened weather protection.
O-rings and hanging chains are rust-resistant galvanized steel.
Our Tufted Hammock includes an attachable trapezoid-shaped tufted head-pillow of the same contoured Sunbrella® fabric and pillowy center of recycled polyester hollowfill fiber.
Despite the advanced weatherability of a Nags Head Hammock, we do always recommend storing it in an enclosed dry place away from harsh chemicals and foraging wildlife during prolonged bad weather and other protracted periods when it's going unused, to ensure its longest possible life.