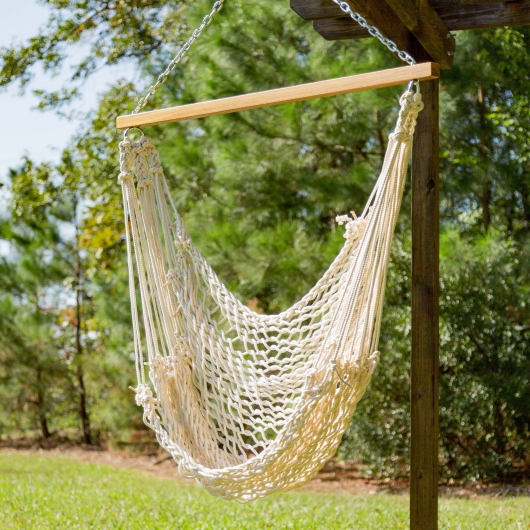 Features
Made in the USA
Traditional design
Unique zinc plated chains
Made of 100% Cotton Rope
Additional Specifications
| | |
| --- | --- |
| Warranty | 1 year |
| Material | 3 ply (8mm total) Cotton rope with solid oak spreader bar |
| Width | 3 ft. 4 in. |
| Size | 3 ft. 4 in. |
| Accommodates | 1 person |
| Weight Capacity | 350 lbs. |
| Care | Use Oxyclean or a Mild Detergent, Water and a Soft Scrub Brush |
| Hanging Height | 6.5-7.5 ft. |
| Color | Beige |
| Hardware | Zinc-plated hanging hardware included |
[gdgallery_gallery id_gallery="94″]
Description
Typically, we strongly advise against swinging in our hammocks. It's not good for the hammock nor safe for the person in it. Yet with this unique product, which manages to be both swing and hammock at once, we're about to completely change our tune.
Which is to say, swing, swing, swing away!
The swing body itself is like a big rope net for your own body, except open at the front and top, for an uncanny sense of security and freedom all at the same time.
The inspired hand-construction includes two sets of three pretty braids of cotton rope, each tied to a zinc-plated O-ring, with the sprays of eight, 10 and eight three-ply ropes individually connecting to the woven swing body. All knots are above where your reclining body will be, especially after the rope in the strong double-latch weave stretches in its first few times of use.
Treat this compact marvel like a regular swing, with feet dangling and head free, or else pull the woven rope up behind you and then lock your feet beneath the rope border at the front, gently pushing yourself back. And all at once you're in an upright hammock, with a wonderful sense of cocooning envelopment to either side.
You've just taken relaxation to a whole new level!