Roman Arc Cypress Swing Stand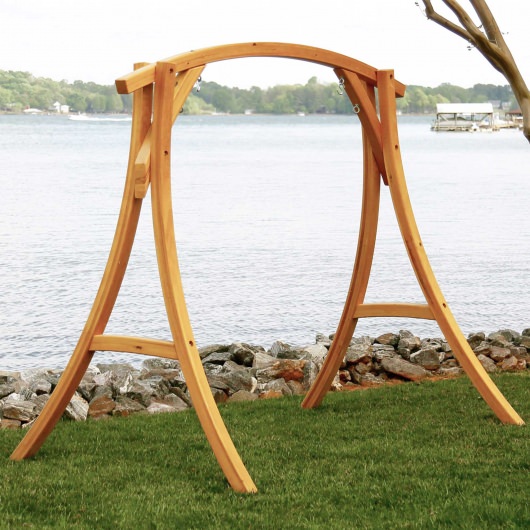 Features
Discover the Hatteras Difference
Made in the USA
Weight capacity 450 pounds
Fits Double Swings
Additional Specifications
| | |
| --- | --- |
| Warranty | 1 year |
| Brand | Hatteras Hammocks |
| Quick Ship | Yes |
| Product Dimensions | 7 feet high by 5 feet 6 inches deep by 7 feet wide |
| Country of Origin | USA |
| Color | Natural cypress-wood color, which ages to a light silver |
| Material | Cypress |
| Width | 7.5 ft. |
| Height | 7 ft. |
| Size | 7 ft. x 5.5 ft x 7 ft. |
| Accommodates | Swings of up to 5 feet 4 inches wide |
| Hardware | Included |
| Shipping | FOB Greenville, NC |
| Weight Capacity | 450 pounds |
[gdgallery_gallery id_gallery="78″]
Description
Southern cypress is one seriously tough wood, but even more than that, it looks phenomenal! The charming irregularities of the grain are like windswept water rippling from a skitteringly skipped pebble.
For our eye-delighting, sumptuously curved Cypress Swing Stand, we steam-bend and then radio-frequency-glue four slats of solid Southern cypress to form a single beam, magnifying the inherent distinctiveness and strength of the wood.
While the sheer density of cypress keeps it from losing much of its natural oil and luster, the wood does eventually age to a muted silver-gray — if you love a beachy weathered look, then just let the cypress do its natural thing! This watertight softwood likewise looks tremendous when coated in a good high-gloss varnish, though linseed oil is also wonderfully effective; use light-grit sandpaper on the wood before applying either.
One side-effect of owning this award-winning swing stand that you ought to prepare yourself for: Your neighbors are certain to experience cypress envy!
Stand hardware is galvanized steel, for advanced rust protection.
**Swing and Swing Springs Sold Separate