Presidential Original DuraCord® Technology Rope Hammock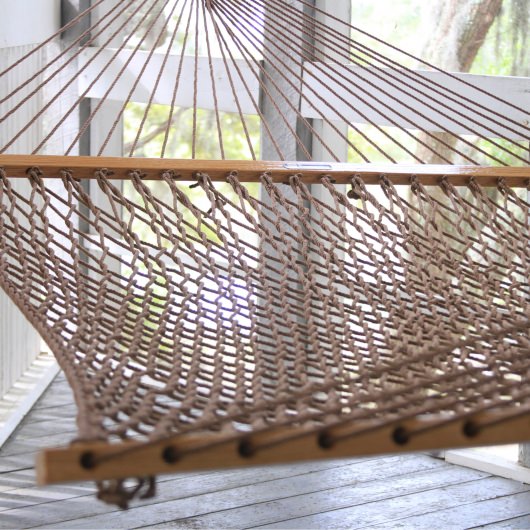 Features
DuraCord® Technology Rope
Accommodates 2 or more people
Handcrafted since 1889
Hand-woven solution-dyed DuraCord® Technology 3-ply rope
Made in the USA
Marine-spar-varnished white-oak spreader bars
Zinc-plated hanging hardware includes 2 screw-in tree hooks
Colorfast and Soft
Product IDs:
15DCAB in Antique Brown
15DCCB in Coastal Blue
15DCG in Green
15DCGN in Garnet
15DCMDW in Meadow
15DCOT in Oatmeal
15DCTAN in Tan
Additional Specifications
| | |
| --- | --- |
| Available colors | Antique Brown, Oatmeal, Green, Meadow, Garnet, Tan, Coastal Blue |
| Material | DuraCord® Technology |
| Length | 13 ft. |
| Width | 65 in. |
| Rope | 3-ply (8 mm total) |
| Size | 13 ft. x 65 in. |
| Accommodates | 2 or more people |
| Weight Capacity | 450 lbs. |
| Bed Length | 6 ft. 10 in. |
| Hanging Distance | 14-16 ft. |
| Warranty | 1 year |
| Hanging Height | 4 ft. |
| Weight | 14 lbs. |
| Hardware | Includes (2) Zinc-plated chains and (2) Tree hooks |
| Care | Use Oxyclean or a Mild Detergent, Water and a Soft Scrub Brush |
[gdgallery_gallery id_gallery="86″]
Description
Hammock shopping may be a little more complicated than you might think! Because with a truly well-made hammock like our Presidential Original DuraCord® Technology Rope models, what you see at first is hardly all you get.
The first few times you look at this sprawling assembly of rope, wood and steel, you're going to see an exceedingly pretty, exceptionally handcrafted hammock, but still just a hammock.
Ah, but recline in this unabashedly comfy construction, allowing yourself enough unhurried time for true relaxation to take hold, and you'll never view a quality hammock in quite that same way again! More and more, you'll start to recognize it not just for what it is, but also for what it can do: Increasingly, you'll see it as a hand-woven home to perfect sunsets and delicious summer-morning breezes, as a swaying place for letting worries gently work themselves loose and fall away.
As, ultimately, a personal oasis of calm smack dab in the middle of your otherwise bustling life.
Expressly designed to be weather-tough, DuraCord® Technology is resistant to abrasion, rot, mold and mildew, yet is nonetheless as soft as cotton. Our three-ply DuraCord® Technology rope is precision-wound to exceed even U.S. military specifications for strength, and because the rope is solution-dyed, it's also resistant to staining and fading — in fact, there's no more colorfast rope available today.
Hammock spreader bars are solid Southern white oak that's been hand-dipped multiple times in marine-quality varnish, to heighten the handsome hardwood's natural honey-gold hue. Hanging hardware, including chains, is galvanized steel, for a further boost in strength, and for heightened rust protection.
As weather-tough as a Pawleys Island® Hammock is, we still strongly suggest storing it in an enclosed dry place away from harsh chemicals and foraging wildlife when the hammock is going unused, or during lengthy stretches of bad weather, to help prolong the product's useful life.
Note: Don't worry if your own Original Pawleys Island® Rope Hammock at first seems a little shorter than its advertised length; your hammock will soon reach its full length through natural stretching from initial use.