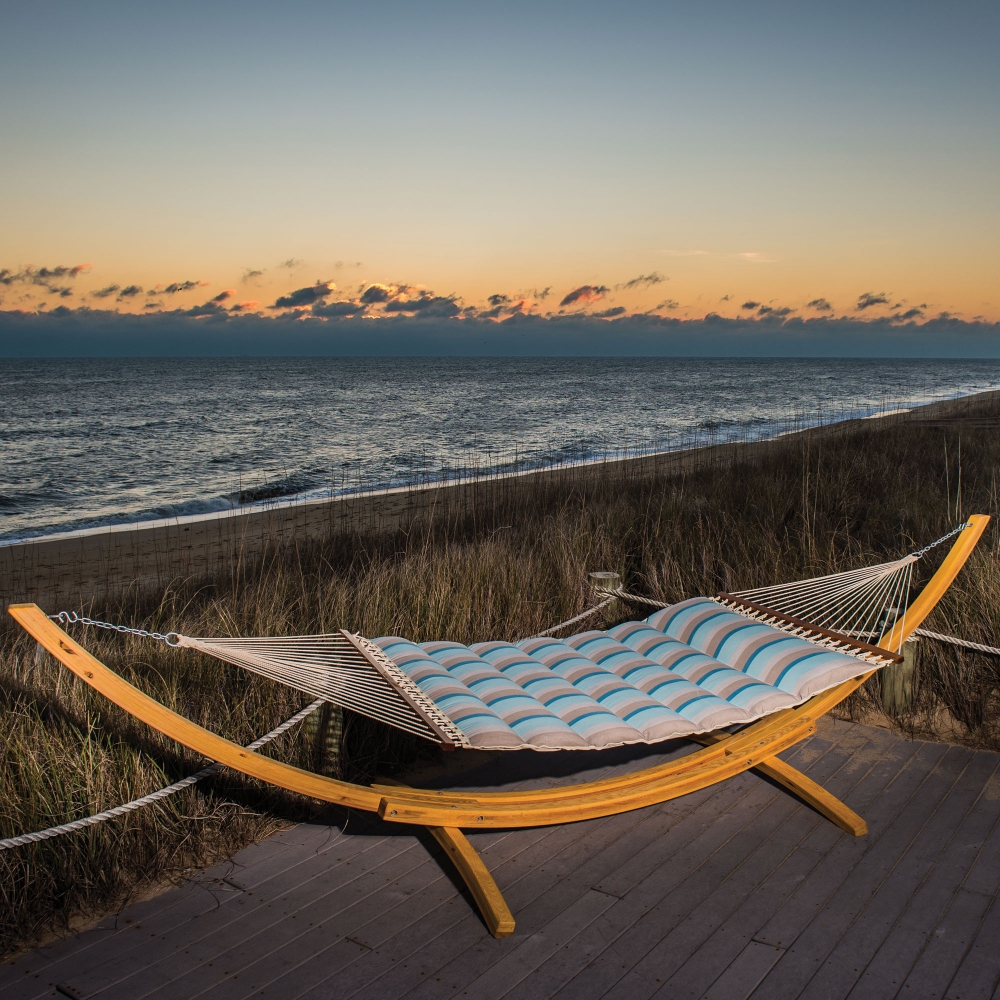 Features
Bed size 54 inches wide by 84 inches long
Varnished white-oak spreader bars
Overall length 13 feet
Weight capacity 450 pounds
Requires 13-15 feet of space for hanging
Available Colors: Gateway Mist, Gateway Indigo, Gateway Aspen, Regency Sand
Product IDs:
DLXPTQHZNH in Gateway Mist
DLXPTQMN4NH in Gateway Indigo
DLXPTQGN06NH in Gateway Aspen
DLXPTQNEU2NH in Regency Sand
Additional Specifications
| | |
| --- | --- |
| Quick Ship | Yes |
| Brand | Nags Head Hammocks |
| Shipping | FOB Greenville, NC |
| Bed Length | 82 inches |
| Hanging Distance | 13-15 feet |
| Overall Length | 13 feet |
| Available Colors | Gateway Mist, Gateway Indigo, Gateway Aspen, Regency Sand |
| Material | Duracord® Technology |
| Width | 55 inches |
| Weight Capacity | 450 pounds |
[gdgallery_gallery id_gallery="53″]
Description
Give into stress and worry, even for a few seconds, and it starts to grow in you, rapidly, like some ugly, awful weed. Then, before you know it, you're all choked up with ugly, awful feelings.
What's needed in life is something that makes relaxation sprout up instead!
So please allow us to introduce our highly sublime Pillowtop Hammock: Its rich striped colors are like a robust spring garden glimpsed in soft morning light, a sweet treat for stressed-out eyes. But just wait till you see what the hammock bed, with its line of pillows like peaceful rolling hills, does for the rest of you, once you actually try it out …
Sinking into one of these lush Pillowtops is kind of like somebody just sprayed Roundup on all that weed-growing stress and worry — so you'd just better prepare yourself for some gorgeously blossoming joy!
The bed of our Pillowtop Hammocks is lockstitched horizontally into seven robust connecting pillows, creating an uncommonly cushiony reclining spot, along with a level of back support utterly uncharacteristic of a hammock.
The top fabric layer, which sports the charming pattern, is made of Sunrella® solution-dyed synthetic outdoor fabric and the neutral-colored underside of the hammock is nonabsorbent Textilene® mesh. These two synthetics sandwich a thick center of plush, resilient polyester hollowfill fiber manufactured from recycled plastic drink bottles.
Sunbrella® is not only resistant to rot, mold, mildew and staining, but is also the most colorfast outdoor fabric on the market, so your cheery Gateway Mist, Gateway Indigo, Gateway Aspen, Regency Sand, colors will hold true to their happy spring hues for seasons to come.
Each end of the hammock bed is offset by thick spreader bars of honey-colored Southern white oak that's been repeatedly hand-dipped in marine-grade spar varnish, a further boost both in looks and weather protection.
Hanging chains and O-rings are galvanized steel, for added support and superior rust protection.
Despite the advanced weatherability of a Nags Head Hammock, we do always recommend storing it in an enclosed dry place away from harsh chemicals and foraging wildlife during prolonged bad weather and other protracted periods when it's going unused, to ensure its longest possible life.
***Stand Sold Separate