Large Original Polyester Rope Hammock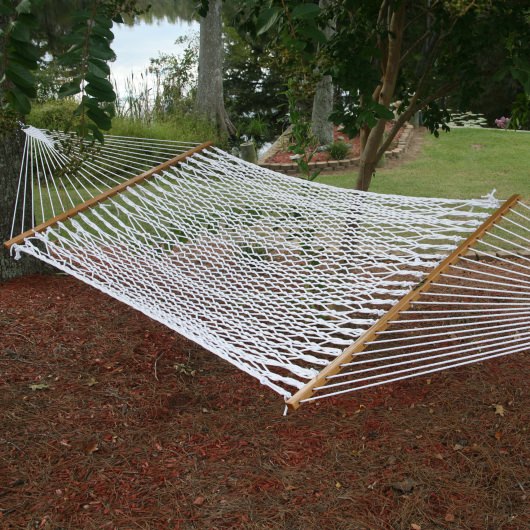 Features
Made in USA
Accommodates 2 people
Hand-woven soft-spun bright-white polyester 3-ply rope
Handcrafted since 1889
Soft spun white polyester
Additional Specifications
| | |
| --- | --- |
| Material | Polyester |
| Hanging Distance | 14-16 ft. |
| Warranty | 1 year |
| Length | 13 ft. |
| Size | 13 ft. x 55 in. |
| Accommodates | 2 People |
| Weight Capacity | 450 lbs. |
| Hanging Height | 4 ft. |
| Bed Length | 6 ft. 10 in. |
| Color | Bright White |
| Width | 55 in. |
| Weight | 14 lbs. |
| Rope | 3-ply (8 mm total) |
| Hardware | Includes (2) Zinc-plated chains and (2) Tree hooks |
| Care | Use Oxyclean or a Mild Detergent, Water and a Soft Scrub Brush |
[gdgallery_gallery id_gallery="84″]
Description
The stark-white rope positively pops when set against the deep natural hues and muted earthtones of a typical backyard backdrop. Again and again, this roomy hammock will beckon you to abandon that briefcase and power-down that laptop, to turn your tense back on the indoors and give your cramped-up spirit some serious room to revel. Consider the rope's brilliant-white color as your own personal flag of surrender — for your senses! Settle into this hand-woven relaxation haven, and give into the need to sometimes do absolutely nothing at all.
Three-ply soft-spun polyester rope means fewer maintenance woes than cotton, but with the same lofty level of comfort. Resistant to rot, mold and mildew, our Large Polyester Rope Hammock promises numerous satisfying seasons of surrender.
Stand Sold Separately!