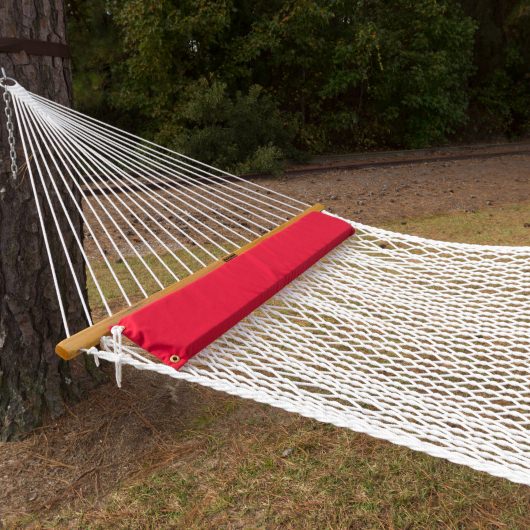 Features
Made with Sunbrella
Polyester rope ties attach to hammock
Washable with just soap and water
Appropriate for any size hammock
Made in the USA
Additional Specifications
| | |
| --- | --- |
| Warranty | 1 year |
| Shipping | FOB Greenville, NC |
| Quick Ship | Yes |
| Brand | Essentials by DFO |
| Color | Available in multiple colors |
| Material | Sunbrella; filled with weather-resistant foam |
| Length | 45 in. |
| Width | 7 in. |
| Hardware | Polyester rope attaches to any hammock's spreader bar |
| Care | Use Oxyclean or a Mild Detergent, Water, and a Soft Scrub Brush |
[gdgallery_gallery id_gallery="67″]
Description
Stretching out in an exceptional hammock is a phenomenally fine endeavor, though your unsupported head might argue things could maybe still be better.
Two words: Hammock Pillow!
We lockstitch our own Hammock Pillows from durable, fast-drying Sunbrella®, which is softer than any outdoor fabric should have a right to be. The best known, most established outdoor fabric, Sunbrella® is not only resistant to rot, mold, mildew and staining, but is superbly fade-resistant as well.
Coming in your choice of nine colors, our Hammock Pillows also wash easily and dry quickly, while the foam fill is equally weather-tough and nonabsorbent.
At 45 inches wide, these comfy head-resters stretch most of the way across even our most ample hammocks. That means that should you doze off in your own hammock and then your body start to sleep-wander, you're still pretty certain to wake up and find your noggin supported in cushiony comfort.
Our Hammock Pillow attaches to a hammock spreader bar with polyester rope threaded through two of each pillow's four corner brass-plated rolled-rim grommets.