Durawood® Technology Folding Bar Table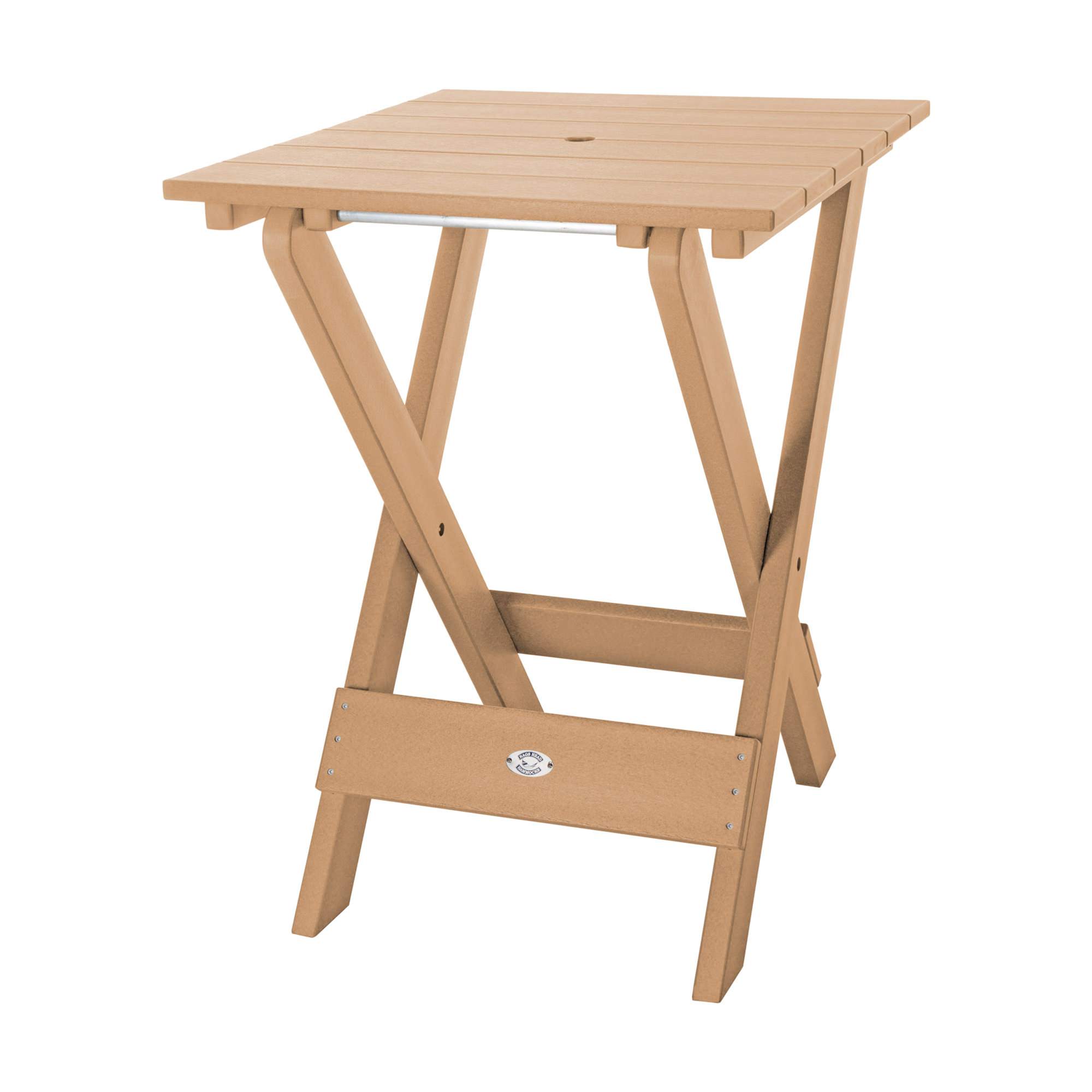 Features
Pairs with Durawood® Technology Lightkeeper's Chair or Durawood® Technology Folding Barstools
Stainless-steel hardware
Includes center hole for umbrella
Comes in choice of 3 colors
| | |
| --- | --- |
| Quick Ship | Yes |
| Brand | Nags Head Hammocks |
| Country of Origin | USA |
| Material | Durawood® Technology |
| Length | 33 in. |
| Width | 30 in. |
| Height | 40 in. |
| Hardware | Painted 316 Stainless Steel |
Description
Think of this as the Humphrey Bogart of outdoor bar tables! Really.
Stay with us here: Our Durawood® Technology Bar Table is tough, tough, tough, and atypically handsome. It's a bit classy, even in casual situations, and yet perfectly informal when you want it to be. You can make a big mess of it — it's an outdoor table, for heaven's sake; stuff's gonna get spilled all over it — but it cleans up superbly, like debonair-and-dashing Rick Blaine in his iconic nightclub in Casablanca.
Also, it a bar-style table. And Bogie sure did love a bar …
The Durawood® Technology Folding Bar Table is 40 inches tall, with a tabletop that's quite large, measuring 30 inches by 33 inches. It pairs wonderfully with our Durawood® Technology Folding Barstools and Durawood® Technology Lightkeeper's Chair, and includes a center hole for an umbrella (sold separately).
We often describe Durawood® Technology as "hurricane-proof," and for good reason. Manufactured from densely compressed recycled consumer plastic like old milk jugs that's been sterilized for safety and to eliminate impurities, the resulting rigid, heavy material looks just like painted wood. Unlike most building composites, though, Durawood® Technology contains no waste-wood fiber, so it not only won't absorb water, but it also won't splinter, crack, rot or attract termites. It also never needs paint, stain or any other kind of sealant, yet holds up to vigorous rains, salt spray, extreme temperatures and high winds, making it the perfect Outer Banks furniture material.
Stainless-steel hardware further boosts both handsome good looks and uncommon durability.
Despite the advanced weatherability of a Nags Head Hammocks product, we do always recommend storing it in an enclosed dry place away from harsh chemicals and foraging wildlife during prolonged bad weather and other protracted periods when it's going unused, to ensure its longest possible life.
Umbrella is sold separately.