Durawood® Technology 48″ Porch Swing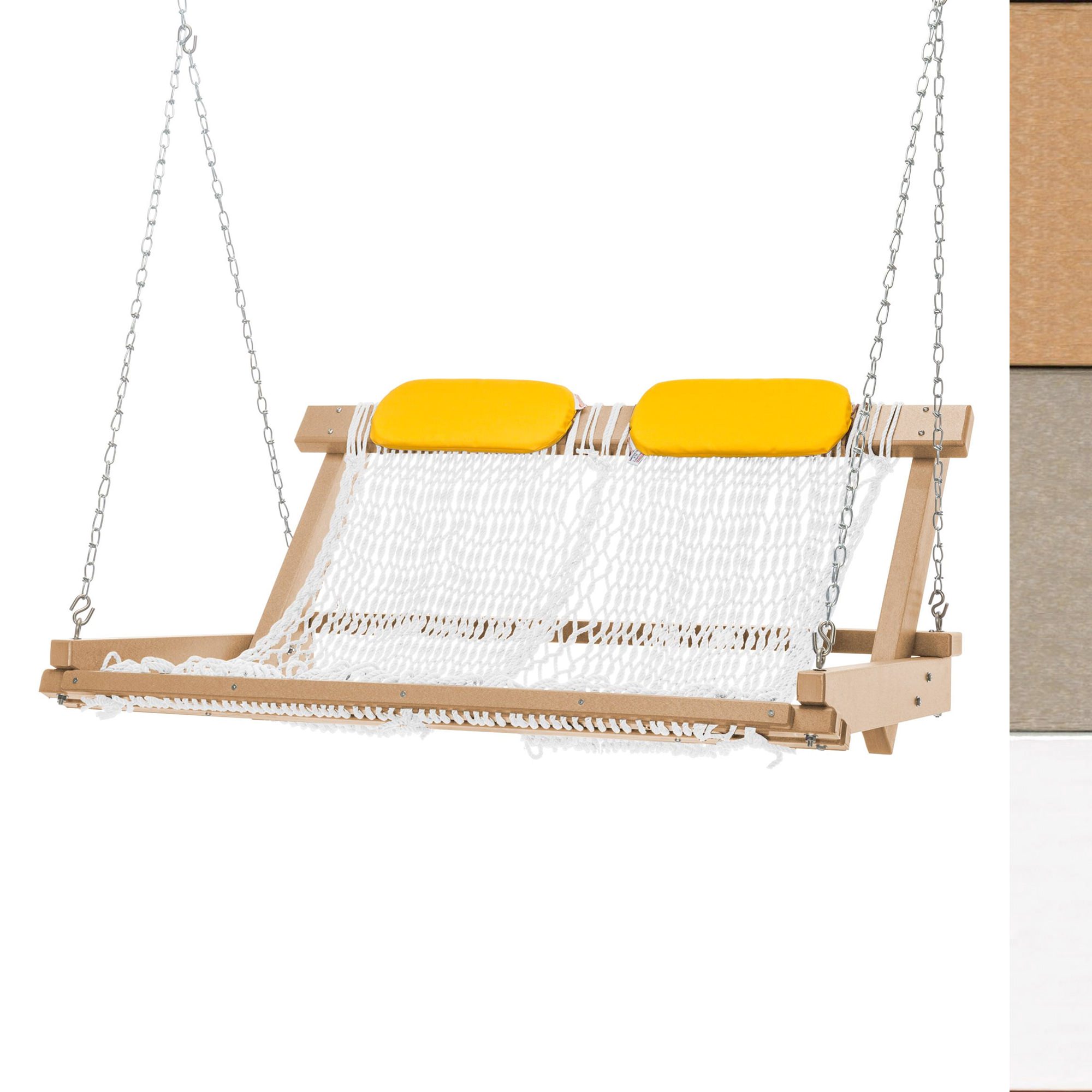 Features
Duracord® Technology rope, choice of 6 colors
Heavy, weather-defying Durawood® Technology frame
Soft-spun polyester rope available in bright-white
2 Furniture Pillows included, choice of 9 colors
Stainless-steel hardware
DuraWood® Technology, choice of 3 colors
---
Product IDs:
NHDW48PS-K in white DuraWood® Technology
NHDW48PSC-K in cedar DuraWood® Technology
NHDW48PSWW-K in weatherwood DuraWood® Technology
| | |
| --- | --- |
| Brand | Nags Head Hammocks |
| Frame Material | Durawood® Technology |
| Quick Ship | Yes |
| Country of Origin | USA |
| Material | Soft-Spun Polyester or DuraCord® Technology, 3-ply Rope |
| Width | 48 in. |
| Height | 21 in. |
| Weight | 45 lbs. |
| Depth | 31 in. |
| Hardware | Stainless-Steel |
| Includes | 1 Durawood® Technology 48″ Porch Swing and 2 Sunbrella Furinture Pillows |
| Shipping | FOB Greenville, NC |
| Weight Capacity | 450 lbs. |
Description
A Nags Head Hammocks classic, reinvented!
This weather-tough swing for two is the very definition of chillin': You don't so much sit in it as your body eases itself downward, like it does in a good hammock.
You're supported by our robust, three-ply rope that's softness rivals cotton's and a Durawood® Technology frame that tilts you back at an angle that simply defies you not to relax, and you might as well give in because this swing is gonna win!
The Durawood® Technology 48″ Porch Swing comes with your choice of two synthetic-rope styles, soft-spun polyester or DuraCord® Technology, both made for prolonged weather exposure, and resistant to rot, mold and mildew, yet with a softness to rival cotton. DuraCord® Technology is also incredibly resistant to abrasion, staining and fading; there is, in fact, no more colorfast rope on the market today.
We offer our soft-spun polyester in bright-white, while our DuraCord® Technology rope comes in six handsome hues: Oatmeal, Tan, Mocha, Meadow, Coastal Blue and Navy Blue.
Available in your choice of 9 colors, the two Furniture Pillows included with our Cedar Durawood® Technology 48″ Porch Swing are made with the cotton-recalling synthetic Sunbrella®, with an all-weather foam center. Sunbrella® the most established, best known outdoor fabric on the market, is not only resistant to rot, mold, mildew and staining, but is tremendously colorfast as well.
Hardware is stainless steel, for added good looks and superior rust protection.
Durawood® Technology itself is made from densely compressed recycled consumer plastic like old milk jugs that's been sterilized for safety and to eliminate impurities. Our Weatherwood color looks uncannily like real weathered wood, though unlike most building composites, Durawood® Technology contains no waste-wood fiber, so it not only won't absorb water, but it also won't rot, splinter, crack or attract termites. It also never needs stain or any other kind of sealant, yet holds up to vigorous rains, salt spray, extreme temperatures and high winds, making it the perfect Outer Banks furniture material.
We don't call it "hurricane-proof" for nothin'!
Despite the advanced weatherability of a Nags Head Hammocks product, we do always recommend storing it in an enclosed dry place away from harsh chemicals and foraging wildlife during prolonged bad weather and other protracted periods when it's going unused, to ensure its longest possible life.
*Swing Stands Sold Separate