Deluxe Original Polyester Rope Hammock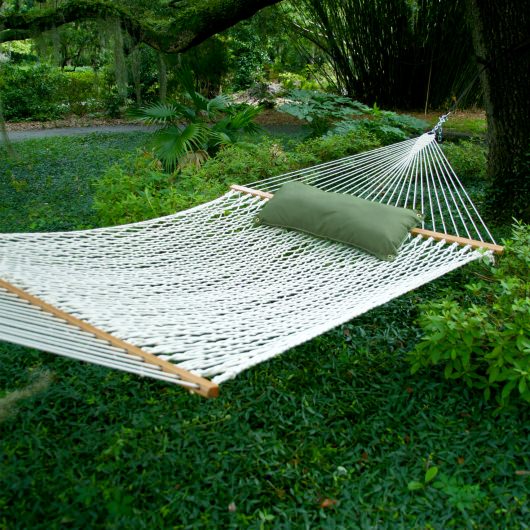 Features
Accommodates 2+ people
Handcrafted since 1889
Soft spun white polyester
Hand-woven soft-spun bright-white polyester 3-ply rope
Made in the USA
Additional Specifications
| | |
| --- | --- |
| Material | Polyester |
| Warranty | 1 year |
| Length | 13 ft. |
| Size | 13 ft. x 60 in. |
| Accommodates | 2 people |
| Bed Length | 6 ft. 10 in. |
| Hanging Height | 4 ft. |
| Hanging Distance | 14-16 ft. |
| Color | Bright White |
| Width | 60 in. |
| Weight | 14 lbs. |
| Rope | 3-ply (8 mm total) |
| Hardware | Includes (2) Zinc-plated chains and (2) Tree hooks |
| Weight Capacity | 450 lbs. |
| Care | Use Oxyclean or a Mild Detergent, Water and a Soft Scrub Brush |
[gdgallery_gallery id_gallery="88″]
Description
*Pillow and Stand Sold Separately.
This top-quality, two-person soft-spun polyester hammock is hand-woven not only for comfort, but also with multiple seasons of relaxation in mind.
In general, polyester promises a longer outdoor life than cotton – but there's polyester, and then there's our polyester! The variety found in so many other hammocks out there is harsh against the skin, an unfortunate trait that only gets worse through time. What difference does it make if a hammock lasts and lasts if you don't want to get in it in the first place?
At Pawleys Island, we machine-wind all our polyester rope right in our own coastal Carolina workshop, precision-twisting it 3-ply strong from miles of quality synthetic threads. That adds up to all the hearty weather-resistance you expect from polyester, but likewise with a level of comfort that'll have you questioning if you're reclining in classic cotton instead.
So come on, feel the lasting comfort!