Curved Taupe Metal Swing Stand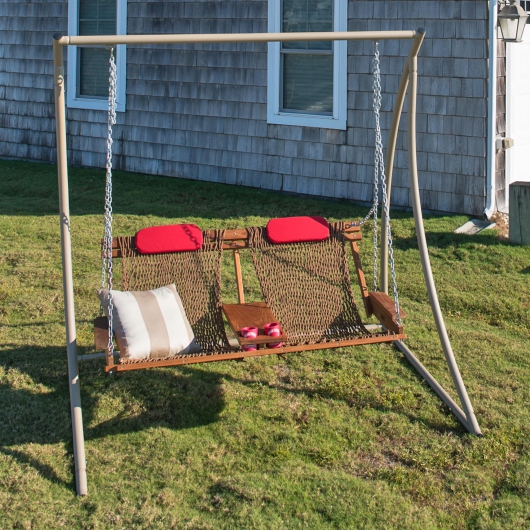 Features
Accommodates ALL our double swings
Weight Capacity of 450 lbs.
Lightly textured powder-coated exterior
Additional Specifications
| | |
| --- | --- |
| Shipping | FOB Greenville, NC |
| Quick Ship | Yes |
| Width | 6 ft. 8 in. |
| Height | 7 ft. |
| Depth | 5 ft. |
| Accommodates | All Nags Head Hammock Double Swings |
| Weight Capacity | 450 lbs. |
| Material | 12 Gauge Steel |
[gdgallery_gallery id_gallery="81″]
Description
We have a couple of really big swings, designed to give your and your very special someone exceptional room to move. But unless you have ample porch space with a couple of sturdy overhead beams or the perfect older tree with strong lower-hanging branches, where do you go to suspend all that roomy swinging relaxation?
You go here, to our big, bountiful, handsome, durable Curved Taupe Double Metal Swing Stand!
Expansive and stylishly curved at its bases, this uniquely sleek swing stand is 6 feet 7 inches tall, with a base that is 6 feet 9 inches wide and 5 feet 8 inches deep. It's made to accommodate ALL of our Nags Head double swings that hang from two points, and it supports a weight limit of 450 pounds. From hook to floor is 78 inches.
Despite this stand's significant size, assembly is simple — and pretty quick, too! Poles connect tools-free via easy-locking spring pins, which have solid-steel cores to prevent possible shearing. The poles themselves are heavy-duty 12-gauge steel, among the sturdiest you'll find on a swing stand. For heightened rust protection and sleek good looks, all poles feature a lightly textured powder coat finish, in a neutral Taupe color.
**Swing and Swing Springs Sold Separate