Cumaru Cushioned Double Swing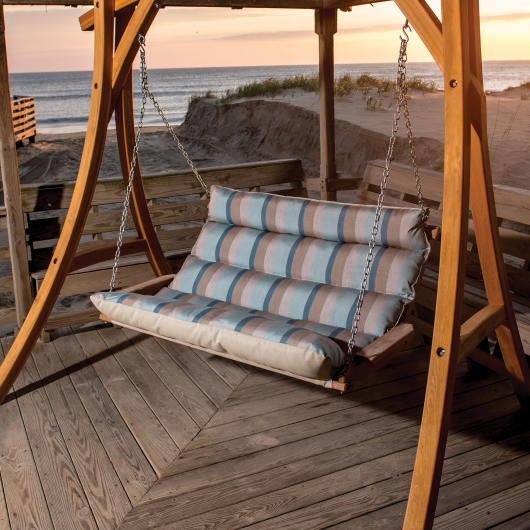 Features
Weight Capacity 450 lbs.
Solid Cumaru Wood Frame
Stainless-Steel Hardware
Seat width 60 in.
Engineered so that no hardware's exposed where the skin contacts the furniture.
Additional Specifications
Quick Ship
Yes
Brand
Nags Head Hammocks
Material
Sunbrella Outdoor Fabric
Width
60 in.
Height
32 in.
Depth
40 in.
Hardware
Zinc Plated Steel
Includes
1 Cumaru Cushioned Double Swing, Galvanized-steel Chains and Hanging Hardware
Shipping
FOB Greenville, NC
Care
Rope : Clorox-type wipes or a soft bristle brush with a mild cleanser are ideal for this product.
Cumaru : Condition wood with Sunwax to prevent from aging to a silver gray color.
Engineered so that no hardware's exposed where the skin contacts the furniture.
[gdgallery_gallery id_gallery="62″]
Description
Like a peaceful meadow of rolling hills tucked away in your own backyard, this abundantly cushioned double swing's lavish contours make for a sweet retreat for over-stressed senses.
The top fabric layer of our Cumaru Cushioned Double Swing is available in your choice of striped patterns, made from solution-dyed synthetic Sunbrella fabric and a neutral-colored bottom layer made from our quick-drying Textaline mesh fabric. These two synthetics sandwich a plush center of resilient, nonabsorbent polyester hollowfill fiber manufactured from recycled plastic drink bottles.
The wood frame to our curve-appealing 5-foot-wide double swing is a toasted almond-brown Brazilian Teak Cumaru that's been sanded to a soft finish. Hardware is zinc plated steel, for superior rust protection.
Despite the advanced weatherability of a Nags Head Hammocks product, we do always recommend storing it in an enclosed dry place away from harsh chemicals and foraging wildlife during prolonged bad weather and other protracted periods when it's going unused, to ensure its longest possible life.
**Stands Sold Separate