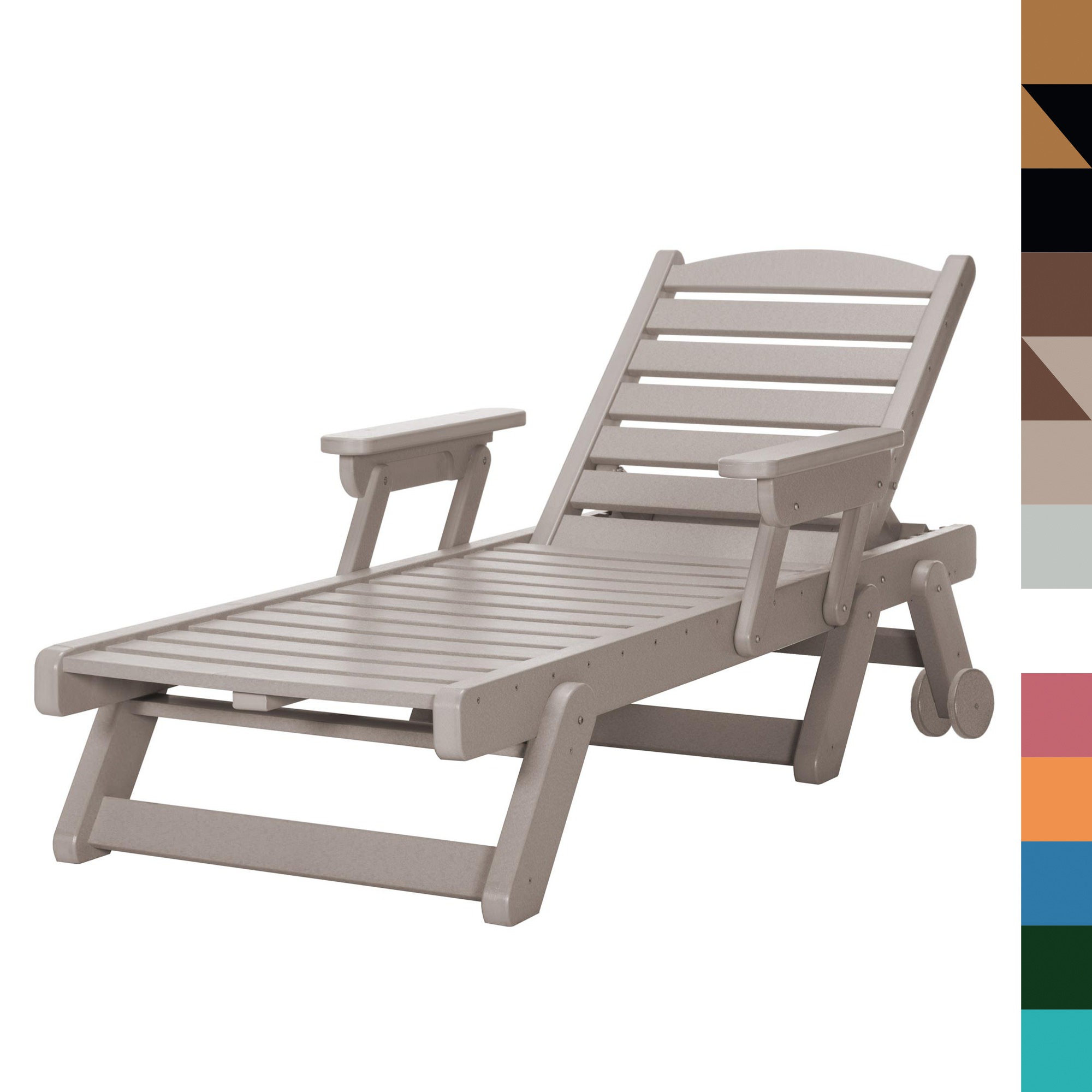 Features
Durawood® Technology
Made in the USA
Wheeled for easy moving
Engineered so that no hardware's exposed where the skin contacts the furniture.
Shipping
FOB Greenville, NC
Seat Height
12 in.
Brand
Pawleys Island Contract Furniture
Arm Height
20.5 in.
Seat Width
25.5 in.
Back Width
22.5 in.
Country of Origin
USA
Material
Durawood® Technology
Length
76 in.
Hardware
Painted 316 Stainless Steel
Weight Capacity
450 lbs.
Care
Clorox-type wipes or a soft bristle brush with a mild cleanser are ideal for this product
Manufactured
by Pawleys Island Contract Division
Engineered so that no hardware's exposed where the skin contacts the furniture.
Description
Manufactured by Pawleys Island Hammocks, this traditionally styled chaise lounge offers lifelong comfort and durability.
The back features 5 adjustment angles to provide the utmost in comfort, anytime you feel inclined to recline.
The arms fold down to make getting in and out of this chaise easy.
All edges and corners are eased and softened. Like fine furniture, you cannot help wanting to touch and feel this chair.
This lounger represents the culmination of diligent design and construction by artisans based in North Carolina, a state richly endowed in the furniture craftsmanship tradition.
All joints where the end of a board meets a face of another are made with the ancient carpentry method of mortise and tenon: a trademark of wooden artifacts found in Egyptian pyramids dating back to 2500 BC. This helps to make the lounger rock solid. Most other loungers merely have butt joints at these intersections to save time and money.
Hardware consists of marine-grade, 316 stainless steel to provide the ultimate in durability. Not all stainless steel is created equal. We have even primed and painted the heads of the hardware to match the color.
Screws and bolt heads are gracefully obscured from the front view of this chaise lounge. Its joints and attachment points are painstakingly engineered to remove all visible hardware from the front of the seat, back, legrest, and arms.
This lounger comes in five pieces and assembles using a power drill, wrench, and the drives included in the hardware kit in about 15 to 20 minutes.
A winning combination of superior materials and craftsmanship, you will not find a better value anywhere. You will not be disappointed.