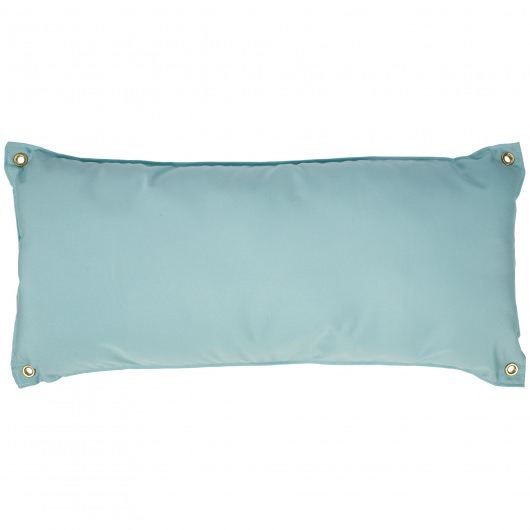 Features
Synthetic fabric, but soft as cotton to the touch
Durable outdoor fabric
Velcro straps for attaching to spreader bars
Padding is weather-resistant polyester hollowfill fiber, made from recycled plastic drink bottles
Rolled-rim grommets with spurred washers, for added stability
All-weather fabric solution-dyed for colorfastness
Available in 4 colors: Glacier, Navy, Cocoa and Sunflower
Product IDs:
B-GL in Glacier
B-NV in Navy
B-CO in Cocoa
B-SF in Sunflower
Additional Specifications
| | |
| --- | --- |
| Length | 34 in. |
| Size | 34 in. x 16 in. |
| Material Detail | All-weather fabric Sunbrella Fabric; recycled polyester hollowfill fiber for padding; brass-plated rolled-rim grommets |
| Warranty | 1 year |
| Thickness | 6.5 in. |
| Available Colors | Canvas Glacier blue, Navy, Cocoa and Sunflower |
| Material | Sunbrella |
| Width | 16 in. |
| Care | Use Oxyclean or a Mild Detergent, Water, and a Soft Scrub Brush |
[gdgallery_gallery id_gallery="98″]
Description
Durability through and through!
Our Traditional Hammock Pillow's two sheets of all-weather fabric, lockstitched with heavy thread and corner grommets for added stability, sandwich a center of equally nonabsorbent recycled polyester hollowfill fiber. The fabric itself is solution-dyed, so the handsome blue glacier, Navy, Cocoa and Sunflower color is uncommonly fade-resistant. All of our outdoor fabric is likewise resistant to staining, rot, mold and mildew, and holds up to intense wear.
Of course, our Traditional Hammock Pillow would hardly be our most popular hammock accessory if all it had going for it was heightened durability — an uncomfortable pillow that lasts and lasts is hardly something to get relaxed about! This cushiony pillow is firm enough to offer real head support, while its exceptionally durable fabric is also genuinely as soft as cotton.